fixed wireless
2021 Infrastructure Act, WISPs, And Fixed Wireless Access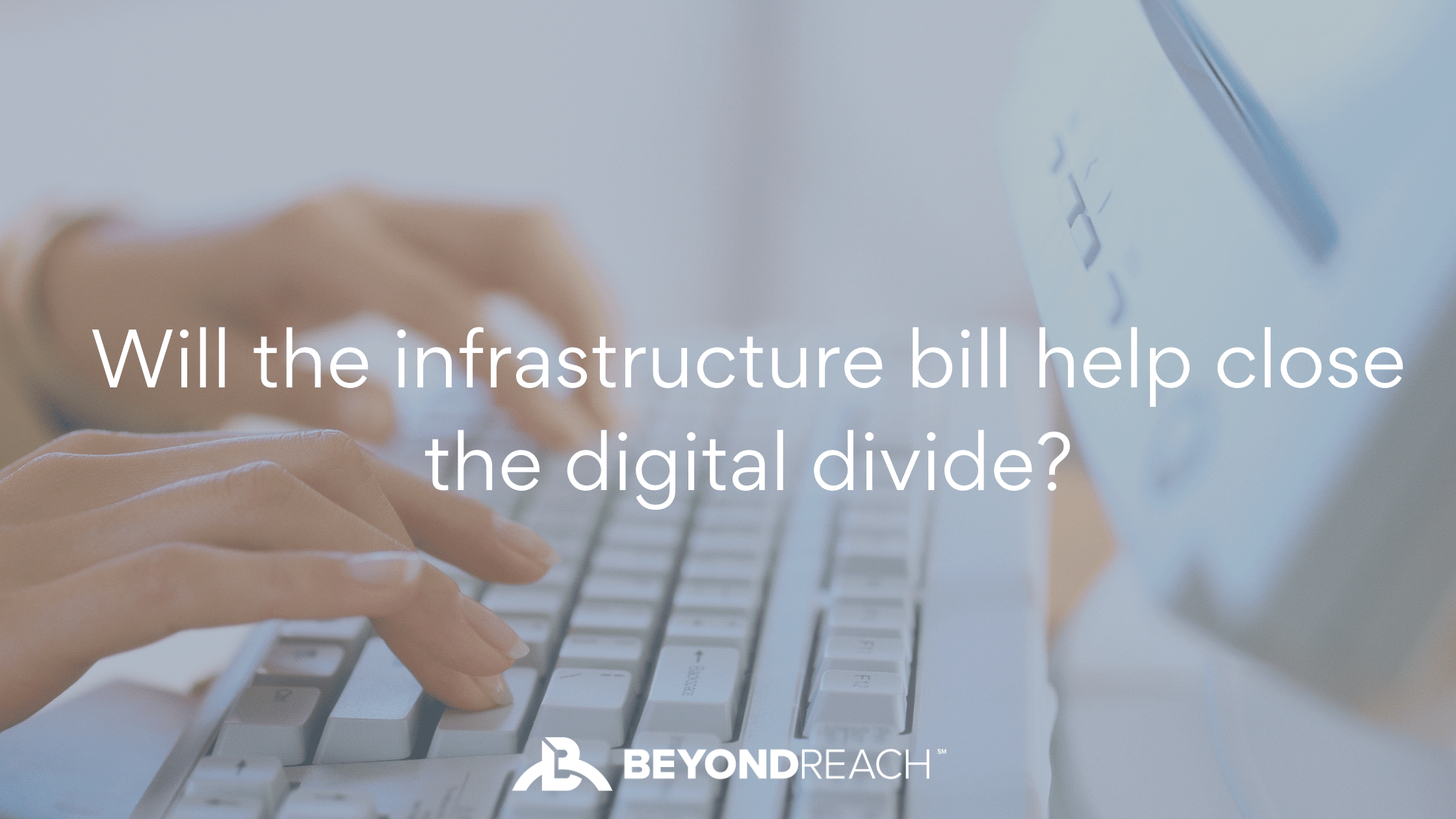 Written by:
BeyondReach Team
Published on:
Dec 3, 2021
The COVID-19 pandemic exposed the gaping digital divide that had already been plaguing rural and tribal communities. It highlighted the need for wireless internet service providers (WISPs) to deploy robust broadband infrastructure in hard-to-reach locations.
It also emphasized the importance of providing WISPs with adequate funding and resources to amplify internet penetration. This is where the $1.2 trillion1 Infrastructure Investment and Jobs Act of 2021 brings a ray of hope for communities in unserved and underserved areas.
Infrastructure Investment and Jobs Act (IIJA): An Overview
The infrastructure investment package was proposed by President Joe Biden in March 2021. The bill was approved by the Senate in August and finally passed by the House of Representatives on November 5.
One of the most significant aspects of the law is its $65 billion broadband plan.2 It includes various grants and subsidies to make broadband internet access affordable and accessible in rural and hard-to-reach areas.
The bill outlines the following grants related to broadband deployment, affordability, and middle-mile funding:
$42.45 billion allocated for the Broadband Equity, Access, and Deployment program
$14.2 billion allocated for the Affordable Connectivity Fund
$2.75 billion allocated for the Digital Equity Act of 2021
$2 billion allocated for the Tribal Broadband Connectivity Program
$1 billion allocated for middle-mile network grants
Broadband Deployment
The Broadband Equity, Access, and Deployment program is designed to support fixed wireless providers and other internet service providers (ISPs). Under the program, the NTIA will be responsible for providing various states with grants to facilitate broadband deployment in unserved and underserved locations.
WISPs funded by the program will be obligated to complete broadband deployments within four years. However, state governments have the authority to allow extensions. Also, funded projects will have to provide minimum speeds of 100Mbps downstream and 3Mbps upstream along with top-notch latency.
Affordability
The Affordable Connectivity Fund is a new version of the Emergency Broadband Benefit Program3 introduced during the pandemic. It aims to provide eligible households with $30 monthly subsidies for broadband connections.
Other Key Aspects
The $2.75 billion digital equity grants are expected to empower covered populations with educational and employment opportunities through broadband adoption. Covered populations include:
Low-income households
Ethnic and racial minorities
People with disabilities
People with language barriers
People in rural areas
Veterans
The broadband investment package also allocated $600 million in Private Activity Bonds for broadband projects. Additionally, it'll provide WISPs with broadband grants and loans through the Department of Agriculture's Rural Utilities Service (RUS).
Final Thoughts: Implications for WISPs
As the IIJA comes into action, it'll usher in a new era for fixed wireless providers and other ISPs. WISPA (Wireless Internet Service Providers Association) members are hopeful that it'll help them realize their vision of bridging the digital divide.
That's why it's critical that you focus on diversifying your services by including hassle-free and affordable solutions such as fixed wireless internet. It offers several benefits over traditional internet connectivity options, including excellent speeds and reliability.
Embracing fixed wireless technology will ensure that your services continue to remain relevant in the future. It'll also help you achieve the speed and latency standards specified in the law.
BeyondReach is specialized in deploying fixed wireless internet connections in rural and remote areas. Get in touch with us to understand whether it's the right fit for your clients.