fixed wireless
How To Prepare for 2023 With Fixed Wireless Internet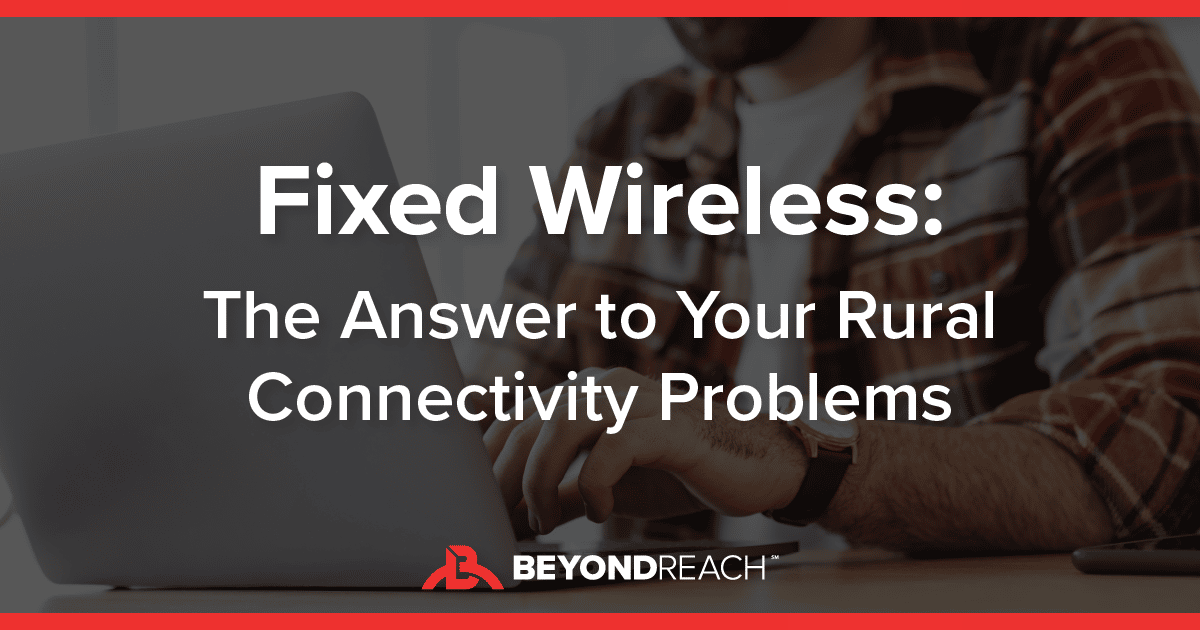 Written by:
BeyondReach Team
Published on:
Nov 2, 2022
Fast and reliable internet is indispensable for modern-day business – but patchy internet connectivity in rural areas proves to be a major deterrent for businesses in those regions. In fact, it's one of the major reasons rural Americans constantly lag behind their urban peers in internet adoption.
When businesses can't access reliable internet 24/7, they face operational difficulties, leading to poor productivity. This, in turn, can impact competitiveness and growth.
Going into 2023, the importance of the internet will only increase as its adoption rises all over the world and e-commerce flourishes. This makes it necessary for you to find a dependable internet source that can give your business uninterrupted internet access.
And if you're an ISP, you need to have a powerful backup internet connection that can kick in when the primary connection fails.
Fixed wireless internet ticks all the right boxes here.
Let's learn more about it.
What Is Fixed Wireless Internet
In simple terms, it's an internet connection that leverages radio waves to transmit data from the base station to your receiver without any cables. This way, radio waves can reach you even if you're in a hard-to-reach location.
This means there's no need for ISPs to lay down long cables to get the internet to reach remote locations. It leads to both cost and time savings for you.
At the same time, businesses don't need to wait for ISPs to reach them. With minimal infrastructure, both can start taking advantage of fixed wireless, making it an excellent option for rural areas.
The Need for Fixed Wireless
Here's why fixed wireless is the best choice for both businesses and MSPs/ISPs going into 2023.
Reliability
Did you know that 25% of enterprises1 say that an hour of downtime costs between $301K and 400K? Even 26% of small and mid-sized businesses pegged their hourly downtime costs between $10K and $20K.2
Needless to say, it's imperative to reduce internet downtime as much as possible. Fixed wireless solves these troubles for both ISPs and businesses.
It allows for fast data transmission, as the radio waves travel from the station to the receiver and back pretty quickly. Additionally, when professionals install fixed wireless connections, they won't be vulnerable to minor weather changes. Come rain or hail, fixed wireless connections will keep performing as they should.
Curious how fixed wireless works as a secondary connection for businesses? Watch our on-demand webinar.
Security
The average cost of a data breach stood at $4.24 million in 2021.3 Also, consider this: the average company faced 270 cyber attacks in 2021. This figure was 31% higher than the number in 2020. This means cyber attacks are only going to increase in 2023, so it's important to be prepared for them. Better cyber security starts with more secure internet connections.
One of the greatest misconceptions about fixed wireless internet revolves around its security. Considering the fact that it's transmitted over the air, you might dismiss it as an unsecured connection. But that's far from the truth.
Fixed wireless components come with military-grade encryption standards. As a result, these connections provide superior security than other options like fiber, DSL, and satellite.
Fixed wireless is a great way for businesses to ensure that you're secure from the impact of a cyber attack. And if you're an ISP, it can help you retain customers.
Scalability
Going into 2023, more businesses will undergo digital transformation, increasing spending to $2.3 trillion, up from $1.8 trillion in 2022.4 This process also requires businesses to expand their networks to get superior speeds and lower latency.
Fixed wireless excels here as well. As an ISP, you don't need to dig up trenches or lay miles of cable to deliver internet connectivity to remote regions. As a result, you can easily scale up your offerings to businesses on demand.
As a business owner, you won't have to wait for long to scale your network connection as your ISPs won't encounter issues in providing superior speeds to you.
Additionally, the costs involved in scaling up fixed wireless services are minimal as they can be upgraded incrementally. Other internet modes require extensive capital expenditure, making it difficult to scale. These costs are passed on to businesses using internet services, making fixed wireless a more cost-effective solution due to low CapEx requirements.
Get Fixed Wireless Internet No
Fixed wireless can be a game-changing connectivity option for businesses in rural areas. Whether you're a business owner or an ISP, it's a must-have going into 2023 for secure, reliable internet connectivity.
However, it's essential to have experts set up your fixed wireless internet to make the most out of it. At BeyondReach, we specialize in bringing internet connectivity to underserved and hard-to-reach areas. Get in touch with us to discuss your requirements and request a quote.
Sources