fixed wireless
7 Reasons Why Fixed Wireless Is Ideal For Remote Businesses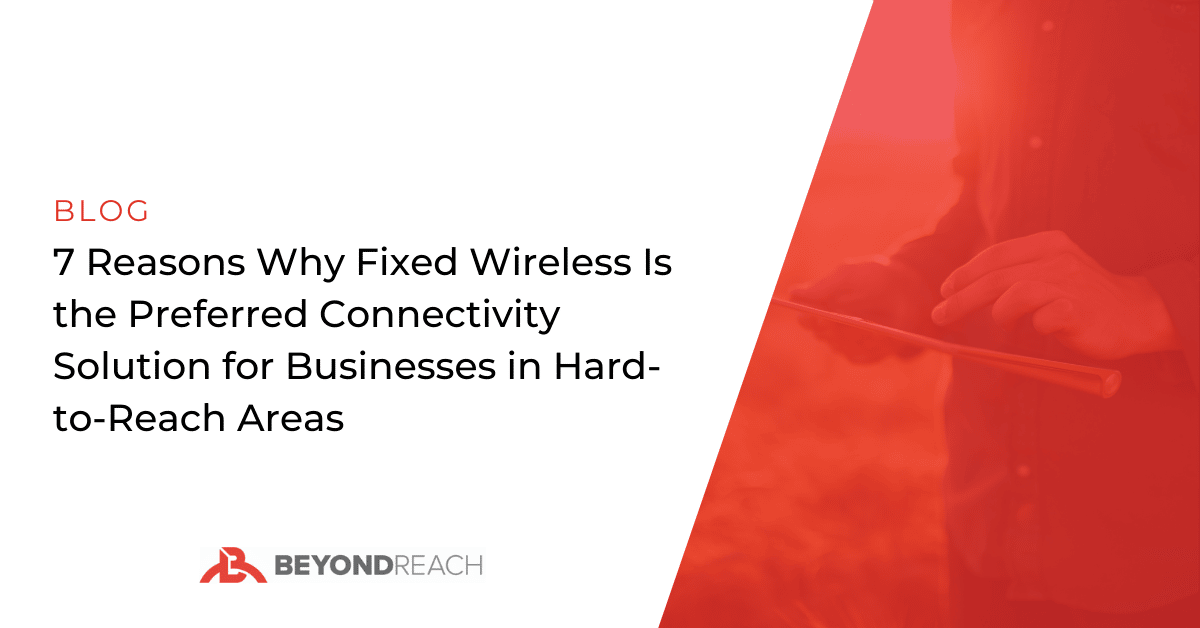 Written by:
BeyondReach Team
Published on:
Apr 6, 2022
As organizations increasingly adopt digital and cloud technologies, the need for a high-speed business internet connection is rising. Companies in urban locations can easily choose from various internet connectivity options, such as cable, DSL, and fiber.
But these technologies fall short when it comes to powering businesses in hard-to-reach and remote locations. Fortunately, fixed wireless internet can help service providers overcome the limitations of traditional connectivity options.
In this blog, we'll explore seven reasons why fixed wireless is the best choice for businesses in rural areas.
1. Ease of Implementation
Setting up fixed wireless access is hassle-free and easy, allowing you to provide connectivity in even the most remote locations. It requires installing a receiver in the line of sight of a wireless base station, then connecting the receiver to your business customer's server room or router via an ethernet cable.
2. Improved Access
Radio wave transmission makes fixed wireless internet easily accessible in rural areas. It eliminates the need to install underground infrastructure, phone lines, coaxial cables, or fiber-optic infrastructure.
All it takes to enjoy a cost-effective, feasible way to improve internet access in hard-to-reach locations is a base station and receivers on your customers' premises. This improved access is likely why analysts expect fixed wireless connections to double1 in the next few years.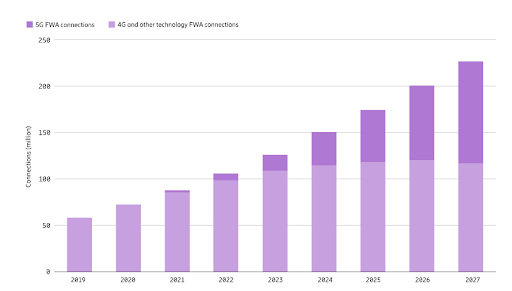 3. Enhanced Reliability
One of the most common misconceptions about fixed wireless is that bad weather can degrade its performance. However, an experienced fixed wireless provider will use carrier-grade equipment and cutting-edge technology to maintain connectivity during precipitation, humidity, heat waves, and other weather conditions.
The height of transmitters in a base station is also below the level of storm clouds, helping to ensure the base station always remains in the line of sight of receivers. These factors combine to make fixed wireless reliable during most inclement weather and help provide uninterrupted connectivity to your customers.
4. Excellent Speeds
Fixed wireless internet offers speeds comparable to that of fiber-optic internet. Direct internet access (DIA) can further enhance fixed wireless speed (up to 20 Gbps). It's the perfect option for modern businesses that use cloud-based applications to run operations.
5. Guaranteed Scalability
Contrary to popular misconceptions, a fixed wireless connection is scalable for end users and ISPs. It's the ideal solution for growing businesses that intend to expand operations in the long run. The faster setup than a new fiber build lets you address the evolving needs of end-users without worrying about costs and permits – especially in rural areas.
6. Robust Security
Many ISPs and business owners believe that radio waves jeopardize the security of fixed wireless. However, modern fixed wireless providers use military-grade encryption protocols to secure internet signals. Additionally, studies have shown that the security of fixed wireless access is on par with other internet connectivity solutions.
7. Cost Effectiveness
The straightforward setup, quick deployment, and hassle-free scalability of fixed wireless internet make it an affordable solution. It isn't as CapEx-intensive as cable or fiber-optic internet, and costs remain stable throughout the life of the contract.
Empower Your Customers With Fixed Wireless Internet
Fixed wireless internet offers various advantages, including reliability, scalability, accessibility, and affordability. That makes it suitable for businesses in rural and remote locations where setting up a DSL or cable internet connection isn't practical – or possible.
BeyondReach specializes in bringing fixed wireless access to even the most hard-to-reach areas. Get in touch with us to request a quote and explore your options.
Sources: