connectivity
Top 5 Concerns About Working With a Rural Internet Provider: Answered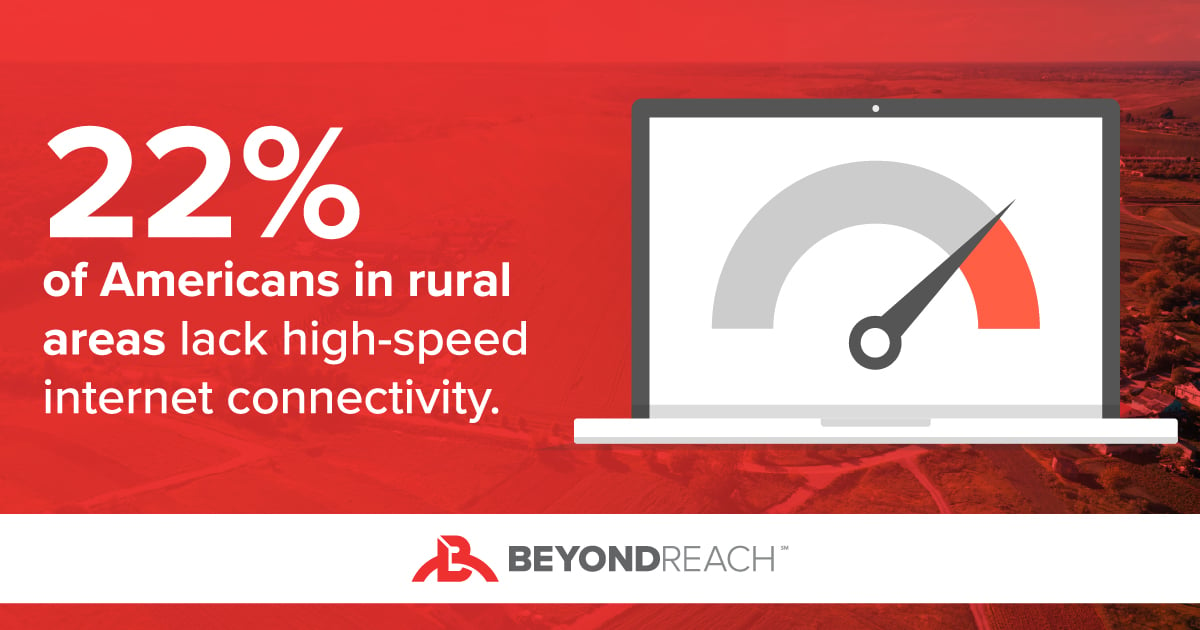 Written by:
BeyondReach Team
Published on:
Sep 5, 2023
Despite investments in remote and hard-to-reach area internet infrastructure, 22% of Americans in rural areas still lack high-speed internet service.1 Only 1.5% of people in urban locations face the same challenge, so it's no surprise that rural businesses are struggling to keep up with their urban competitors.
Unfortunately, bridging the connectivity gap for businesses in remote areas isn't feasible for many MSPs and ISPs. Partnering with a rural internet provider like BeyondReach can help you generate new enterprise-level opportunities by delivering fast, reliable business connectivity and backup internet solutions to customers in even the hardest-to-reach locations. Read on for answers to five concerns you may have about working with a rural internet provider.
1. Lack of Service Availability
Since the technological infrastructure in remote areas is less developed compared to urban areas, service providers may be unable to provide consistent internet connectivity to clients in hard-to-reach locations. This lack of reliable internet service can impact everything from communication and data transfer to online sales and customer service.
But while offering reliable rural internet services can be a challenge, it's not impossible. By partnering with a provider who specializes in servicing remote and hard-to-reach areas, you can bring connectivity to areas where none currently exist.
2. Slow Network Speeds
Businesses everywhere need fast internet to stay competitive, but delivering high-speed internet in rural areas can be challenging. Typical rural connectivity solutions, such as satellite internet, suffer from issues like limited bandwidth and low latency – both of which can affect network speed.
Fixed wireless internet solutions like dedicated internet access (DIA) and fixed broadband help businesses in hard-to-reach locations enjoy speeds comparable to those offered by fiber-optic solutions. Of course, not all fixed wireless internet connections are equal. The speed of your rural internet services will depend on your network – but partnering with the right provider can enable you to leverage more reliable connections.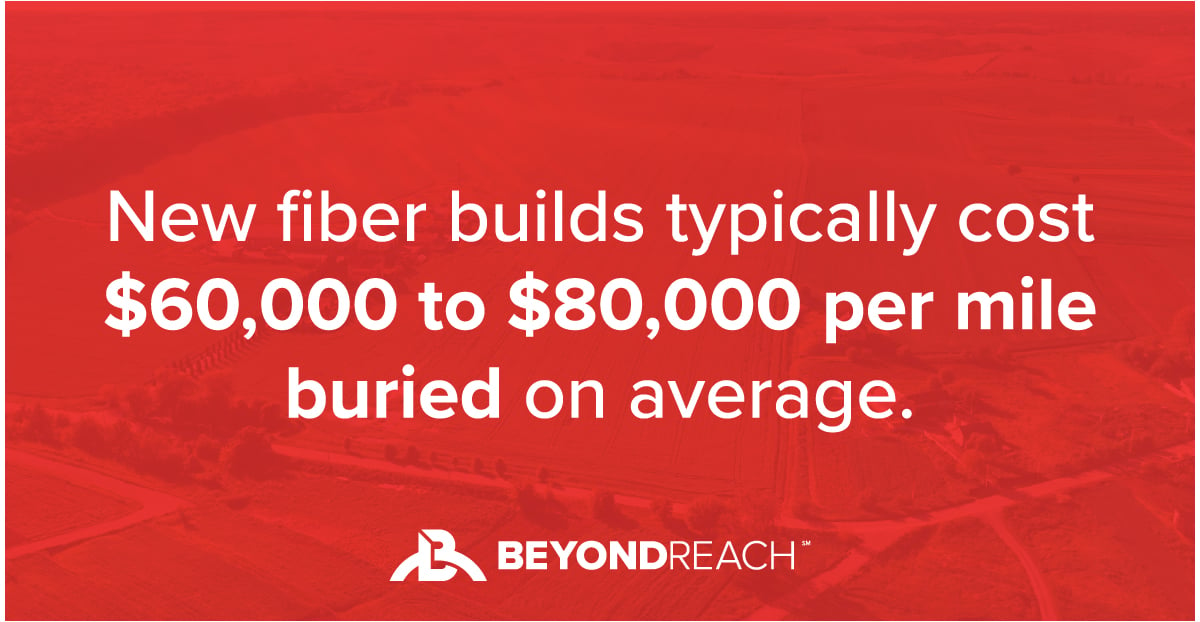 3. High Costs
New fiber builds are expensive – ranging from $60,000 to $80,000 per mile buried on average.2 Unfortunately, this price tag isn't in the budget for many remote and rural businesses. They have to look elsewhere for a more cost-effective solution, which typically means sacrificing speed and reliability.
Fixed wireless for remote areas is significantly more affordable than new fiber builds. And by working with a rural internet provider that focuses on deploying creative connectivity solutions, you can help your clients save more with efficiently-built vertical assets.
4. Unresponsive Support
Whether your remote customers need backup connectivity or help resolving an outage, providing fast, responsive support to businesses far from your site can be time-consuming and tedious.
However, there are hard-to-reach area internet service providers dedicated to providing responsive support – no matter where your customers are located. Work with a provider that has a dynamic network to ensure your hard-to-reach customers receive the level of support they need to stay connected at all times.
5. Limited Solutions
Offering a variety of internet solutions for customers in remote areas can be tricky since installing and maintaining the necessary infrastructure takes considerable resources. Challenging terrain and dispersed geographical regions also limit the types of services MSPs and ISPs can provide in rural areas, frequently resulting in a one-size-fits-all approach rather than a selection tailored to individual business needs.
Partnering with the right rural internet provider can help create new opportunities for you to offer fast, reliable business connectivity to even the hardest-to-reach locations. They can also help you deliver backup connectivity solutions for remote customers needing redundancy or added bandwidth.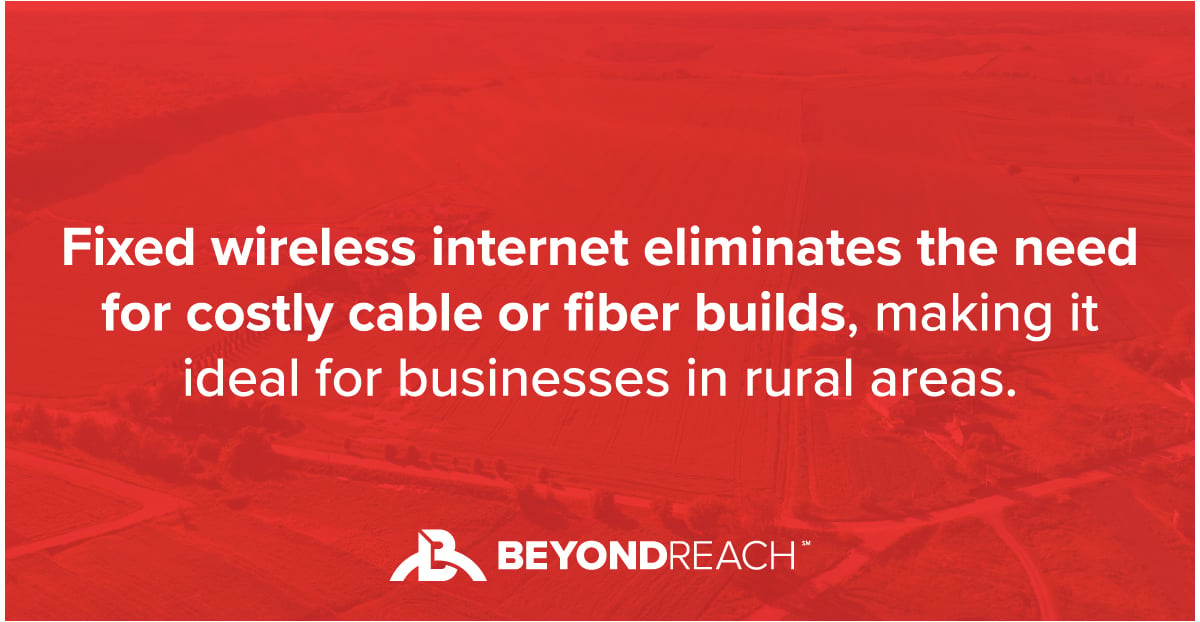 Why Should Service Providers Offer Fixed Wireless for Remote Areas?
Offering fixed wireless internet to businesses in rural areas can be a game-changer for service providers. Fixed wireless works by delivering internet service over radio signals from a base station to a receiver on the customer's premises. This method eliminates the need for costly and resource-intensive cable or fiber-optic infrastructure, making it ideal for hard-to-reach areas where such installations are challenging.
A few benefits of fixed wireless internet for businesses in rural areas include:
Fast speeds, which can help your customers compete on an equal footing with their urban counterparts.
More reliability

than other rural internet solutions that may be impacted by harsh weather conditions and other environmental factors.
Affordability, since fixed wireless internet doesn't require the same costly infrastructure as traditional internet solutions.
Redundancy

to back up your SD-WAN solutions or other connectivity options and ensure your customers have uninterrupted service.
Service providers that leverage fixed wireless can also potentially tap into an underserved market, expanding their customer base and boosting profitability. By diversifying their service offerings to include fixed wireless internet, providers can cater to the specific needs and challenges of rural businesses.
Essentially, offering fixed wireless to businesses in rural areas presents a win-win situation: your customers can access reliable, high-speed connectivity, and you gain access to a new, untapped market.
Deliver Better Rural Internet Connectivity With BeyondReach
The logistical complexities of connecting businesses in hard-to-reach areas can't be overstated. Building and maintaining a fiber or cable network requires significant time and resources. And the dispersed nature of rural regions is made even more complicated by mountainous or heavily-wooded terrain, rendering remote internet solutions like satellite and cellular less effective.
BeyondReach can help MSPs and ISPs deliver the high-speed business internet your rural customers need with solutions that solve even the toughest connectivity problems. We'll help you:
Grow your reach

by building vertical assets in areas where none exist and connecting them to your network.
Bring you new revenue opportunities

by leveraging our partnerships with 950+ WISPs.
Provide reliable connectivity

by leveraging our network of 7.5 near-net buildings, 300+ PoPs, and 6 carrier hotels.
Ready to provide business connectivity in even the hardest-to-reach areas? Visit our website today to learn how BeyondReach helps MSPs and ISPs/carriers deliver reliable rural internet connectivity.
Sources:
https://www.usda.gov/broadband
https://broadbandbreakfast.com/2022/09/fiber-providers-feeling-the-heat-of-inflation-as-cost-of-materials-labor-rise