fiber
Everything You Need to Know About Dedicated Internet Access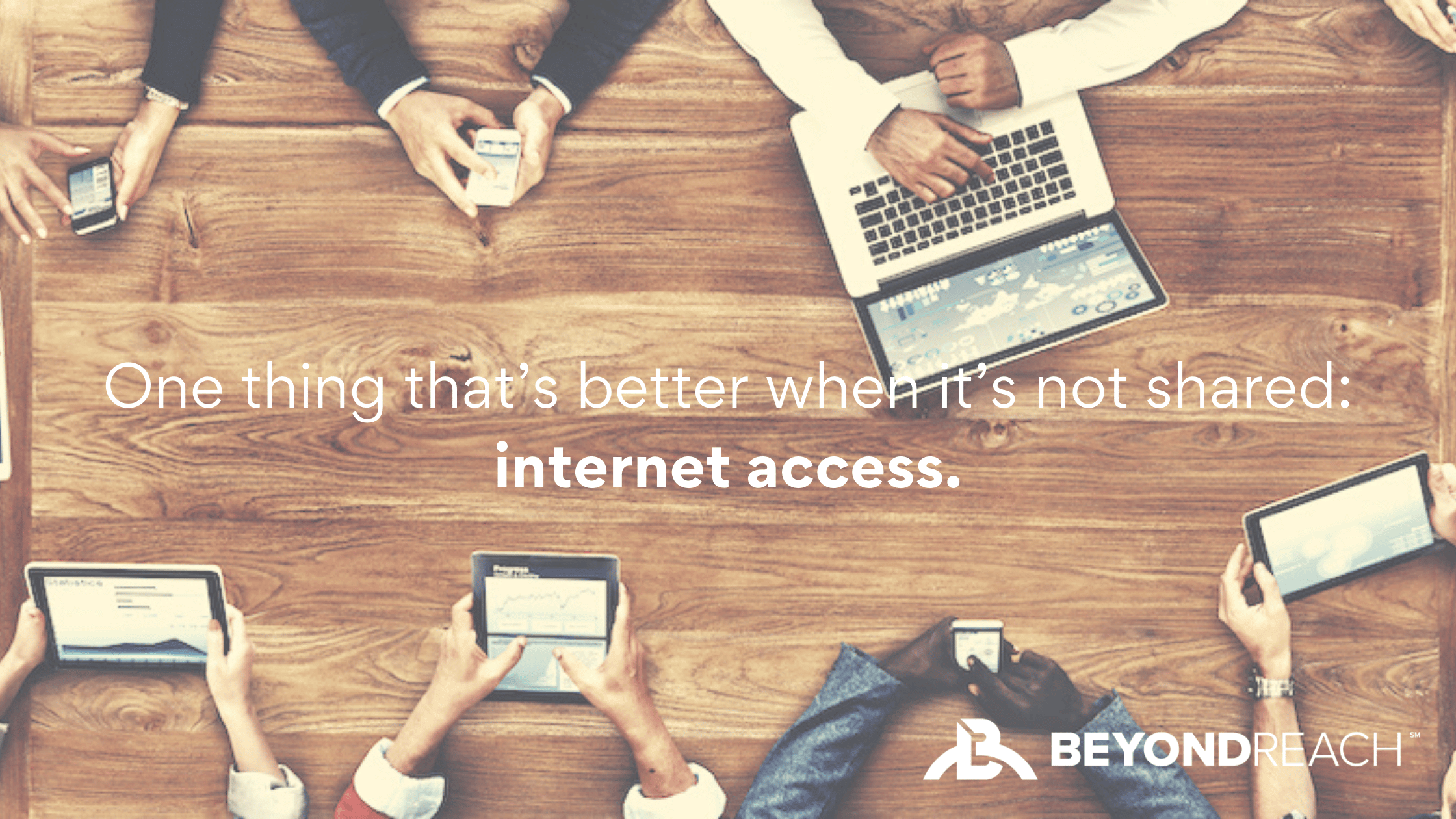 Written by:
BeyondReach Team
Published on:
Jan 28, 2022
A steady, high-speed business internet connection has become indispensable for modern organizations. As hybrid working models gain traction, reliable internet access is becoming all the more important.
Whether you want to facilitate seamless file sharing or improve collaboration for a remote workforce, you need high-speed internet. Most business owners spend time evaluating different connectivity options, such as fiber, cable, and fixed wireless. The type of internet connectivity technology isn't the only factor that influences network speed and availability, though. You also need to consider how the connection is delivered to your premises.
A regular connection with shared internet access doesn't make the cut for most businesses. That's where dedicated internet access (DIA) steps into the picture.
What Is DIA?
Dedicated internet access establishes a private internet connection between an internet service provider (ISP) and a company's premises. It eliminates the need to share resources with other users. That, in turn, results in improved speed and reliability.
The best part is that the performance of a DIA connection is governed by robust service level agreements (SLAs). This ensures that businesses get the speed and bandwidth exactly as advertised. For instance, DIA helps increase the speed of fixed wireless internet to nearly 20 Gbps.
Benefits of DIA
The enhanced performance of DIA comes at a higher price point. That's why many business owners contemplate whether it's worth the investment. The good news is that the benefits of dedicated internet access outweigh its cons.
Guaranteed Symmetry
With DIA, users get symmetrical upload and download speeds. This makes it ideal for businesses that rely on audio and video conferencing for day-to-day operations. DIA also eliminates concern about a sudden decline in speed during peak hours, ensuring uninterrupted file sharing among different teams.
Excellent Tech Support
A DIA connection comes with extensive SLAs and most providers offer the support of an account management team. This means users get access to high-quality customer service in case of any technical glitches or disruptions.
Cost-Effectiveness
While shared internet access is less expensive, it comes with various hidden costs. The high latency and unreliability of a shared connection compel users to choose a plan that offers better bandwidth and speeds – but this often results in paying for a ton of unused bandwidth.
On the other hand, a DIA connection offers the right bandwidth and speed to fit the needs of your customers. That makes it more cost-effective in the long run despite the hefty upfront investment.
When Should Businesses Consider DIA?
It's important to understand whether DIA is truly the best fit for your customers. Ask yourself the following questions:
Are your customers working with a hybrid workforce that has to collaborate on different projects?
Do the customer's employees need to send large files, such as videos, to clients?
Do your customers rely on video conferencing tools to communicate with teams in different office locations?
If you've answered "yes" to any of these questions, a DIA connection would be worth the investment for your customers.
Make the Right Choice for Your Business Internet Connection
At BeyondReach, we empower businesses in remote and rural locations with fixed wireless access. We specialize in providing dedicated internet access solutions to modern enterprises that rely on secure, stable, and high-speed connectivity.
Get in touch with us today to understand whether fixed wireless internet and DIA are the right solutions for your customers.