fixed wireless
What Is Fixed Wireless Internet?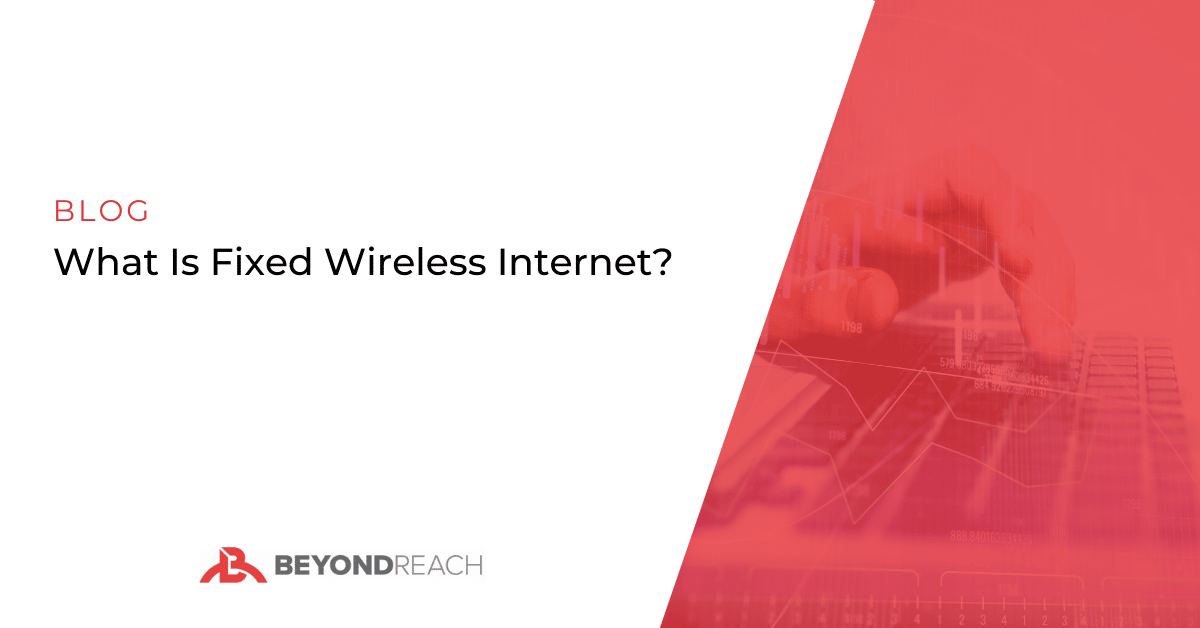 Written by:
BeyondReach Team
Published on:
Apr 22, 2021
A high-speed, reliable internet connection is a must-have for modern organizations. With the increased reliance on cloud computing and bandwidth-heavy solutions for remote work, even a minute of downtime or lagging speeds can put a business at a disadvantage.
As a result, many internet service providers (ISPs) and aggregators look to big-name internet options, such as fiber optics, for their business customers. But while fiber's resilience and power make it a popular choice, fixed wireless internet serves many businesses better.
Fixed wireless surpasses fiber in several ways and has emerged as a preferred internet alternative - especially for businesses in hard-to-reach areas. Read on to learn everything you need to know about bringing fixed wireless connectivity to your customers.
What Is Fixed Wireless?
Fixed wireless is an internet connectivity option that transmits radio waves from a base station to deliver internet services without cables. This means businesses that don't have access to traditional cables can still receive internet service that provides fast connectivity, download speeds, and upload speeds.
When Is Fixed Wireless Used?
Fixed wireless is great for businesses in rural areas since it doesn't require a cable connection. Burying cables for DSL internet is time-consuming and expensive, so it's not viable for providers who only offer internet to a handful of remote businesses.
How Does Fixed Wireless Work?
When installing fixed wireless services, an ISP first mounts a receiver to an exterior wall or rooftop of the business location. Installation time varies, but a quality fixed wireless provider can complete installation within a week or two.
Once installed, the receiver accepts radio waves and converts them to an internet connection. The receiver is connected to an internet router via a cable and transmits signals from the nearest wireless base station to the router. From there, business owners can connect to the internet via their router like they would with any other internet option.
What Are the Advantages of Fixed Wireless?
There are many advantages to opting for fixed wireless as the preferred internet for your business. Firstly, it offers a solution for rural areas where other internet connectivity options may not be available. It also helps ISPs save time and money installing cables to expand their coverage area - especially where ROI would be low.
Additionally, fixed wireless often has very high data caps. In some cases, it may have no caps at all. This means that users can get 100GB or more through their connection and enjoy download speeds and upload speeds that are as fast or even faster than other broadband services
How Is Fixed Wireless Different From Other Internet Options?
Fixed wireless doesn't require phone lines such as DSL or underground cables such as cable or fiber internet. While satellite internet is similar in allowing almost anyone to get a connection, it is often slow with very restrictive data caps. Satellite is also expensive compared to other internet options and usually requires a long minimum contract.
Businesses that select fixed wireless as their preferred internet solution get connected quickly and enjoy fast download speeds, upload speeds, and high data caps - regardless of where they are located.
See if Fixed Wireless Is Right for Your Customers With BeyondReach
There are numerous internet connectivity options available in the market. Still, fixed wireless has been rising to the top - and will continue to in the future - due to its lightning-fast speeds, high bandwidth, and low latency.
Are you ready to provide cost-effective, reliable internet connectivity to your hard-to-reach clients? BeyondReach can help you determine if fixed wireless is the right option for connecting your customers in remote and rural locations. Contact us today to get started.