fixed wireless
What Sets BeyondReach Apart From Other Rural Internet Providers?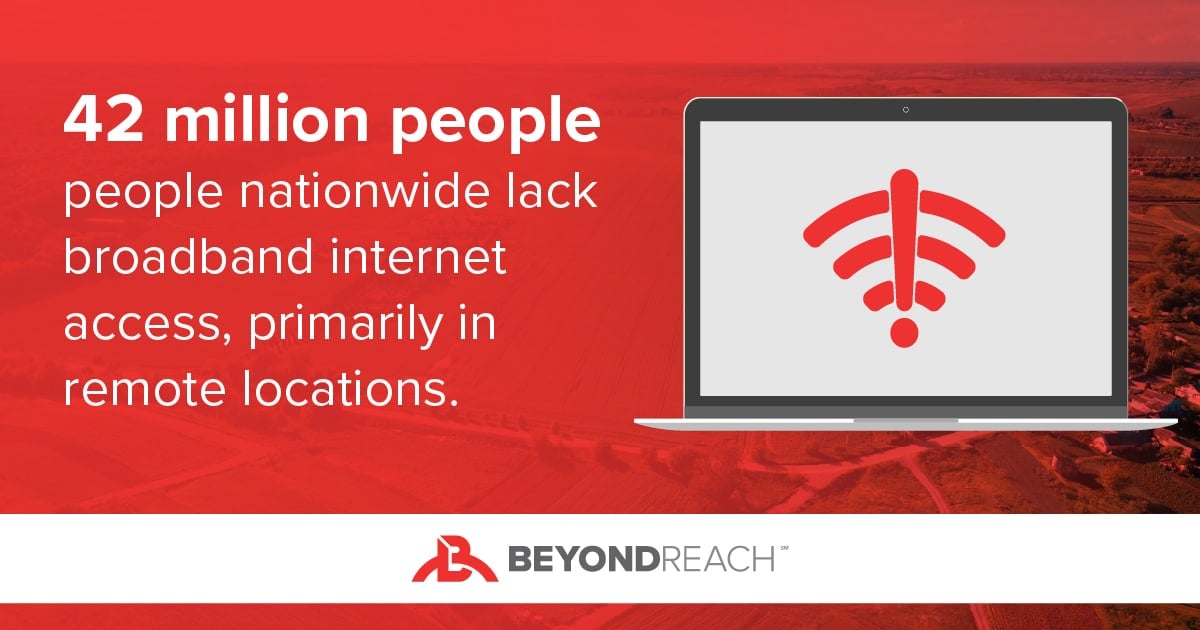 Written by:
BeyondReach Team
Published on:
Mar 29, 2023
The internet has changed how we work, from simplifying routine tasks to improving customer service processes and more. But for businesses located in rural and hard-to-reach areas, accessing the connectivity needed to keep up can be challenging. An estimated 42 million people nationwide lack broadband internet access,1 primarily in remote locations. To connect businesses in these areas, service providers will have to look outside the box for a fast, reliable rural internet option.
That's where BeyondReach comes in. We specialize in helping MSPs, ISPs, and aggregators engineer connectivity solutions for locations where more traditional internet connections, such as cable and fiber-optic networks, are hard to come by. Keep reading to see what sets our services apart from other providers - and how we can help you get even your hardest-to-reach customers connected.
What Services Does BeyondReach Offer?
If you have customers in hard-to-reach areas, we can help you bridge the rural gap. Our services include:
Broadband - We ensure 100% fulfillment for remote and rural sites with fixed wireless, fiber, and copper solutions to keep your customers connected.
DIA - Our dedicated internet access (DIA) solutions offer alternative solutions for every multi-circuit need, including demanding SLAs.
Transport - We offer point-to-point wireless solutions to connect your customers, no matter how remote their business location.
Temporary Internet - Our temporary internet options ensure your customers always have access, whether they're dealing with an emergency or simply waiting for a fiber build.
SD-WAN Support - With our fixed wireless solutions, you can provide uninterrupted backup internet access to your customers using SD-WAN even when the primary connection goes down.
What Makes Our Network Different?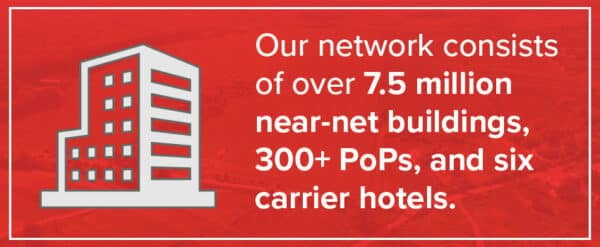 Unlike other internet providers, we're not defined by our network map.
Traditional internet networks are static, preventing providers from offering services outside a set location. When it comes to serving customers in hard-to-reach areas with internet, factors like inadequate infrastructure, interference from mountains or trees, and the high costs of installing cable or fiber limit most service providers' abilities to offer fast, reliable, and affordable connectivity.
At BeyondReach, our network isn't static. It consists of over 7.5 million near-net buildings, 300+ PoPs, and 6 carrier hotels, and our ability to scale this ever-growing network enables us to engineer cost-effective internet solutions in areas that aren't serviceable for other providers - in the shortest possible time.
BeyondReach: Your Trusted Partner for Rural Internet Solutions
We're committed to helping you connect your customers, no matter how hard to reach, with solutions like high-speed fixed broadband and fixed wireless for remote areas. Turn to BeyondReach when you need to overcome obstacles such as:
High construction costs for installing fiber or other types of internet connections.
Non-serviceable areas or areas that other providers say are non-serviceable.
Secondary or diverse connections when your customers need redundancy or more bandwidth.
Tight deadlines or insufficient speeds that don't meet your customers' standards.
No location is too remote or obstacle too great for us to provide an option for internet - that's our connectivity promise. Contact BeyondReach today to learn more about how we can help you get your hard-to-reach customers connected.
Sources: